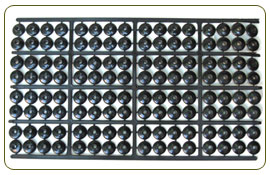 Parry Mouldings is an, ISO 9001: 2000 certified India based enterprise, focusing on moulds and moulding of engineering plastics. Established in 1987, and backed by experience of more than two decades, we can help in maximizing your product's potential besides advising best suitable material for the same. The greatest tribute to the success of our organization is the repeat orders from our satisfied customers having diverse applications and serving multifarious sections of Industry like surgical, testing, measuring, engineering, Industrial, electrical, electronics, medical, retail, construction, automotive, signals, and leisure, using variety of plastics ranging from thermoplastic ceramics such as ABS & Polystyrene to Glass reinforced Nylon (polyamide). All this in addition to Cellulose Acetate & Nitrate, PVC, Acrylic, Polycarbonate, PET, SAN, Delrin, Polypropylene, Polyethylene, Polyurethane, TPR, EVA etc.
We give you comprehensive and tailor made solutions for your plastic component needs, be it single colour moulding, double colour moulding, insert moulding, double material moulding etc.

Please call or email us now with your plastic injection moulding
enquiry.